Snacking Away: Graham Sells Mercer Foods
January 10th, 2022
PHILADELPHIA
Graham Partners, a Philadelphia-based private investment firm targeting technology-driven advanced manufacturing companies, is pleased to announce the sale of its portfolio company, Mercer Foods LLC ("Mercer Foods"). Headquartered in Modesto, California, Mercer Foods is a provider of natural freeze-dried fruits and vegetables serving a diverse group of marquee customers in a variety of end markets. Mercer Foods has optimized the freeze-drying process and capitalized on growth within the foodservice and retail segments by providing customers with one-stop-shop convenience and a differentiated product offering supported by the company's dedicated in-house R&D team.
Mercer Foods was acquired in 2016 after being identified as an attractive target through a study on the freeze-dried foods industry as part of Graham Partners' Investment Theme Program. Graham's investment thesis for Mercer Foods was premised on favorable consumer trends, including increased demand for healthy, no sugar added plant-based food products with clean labels and long shelf lives. Graham also anticipated leveraging its experience in food technology and freeze-drying to support the significant customer demand for its products.
Graham actively partnered with the Mercer Foods team during its ownership period to catalyze the company's growth as a leading provider of freeze-dried ingredients. During Graham's ownership, Mercer Foods: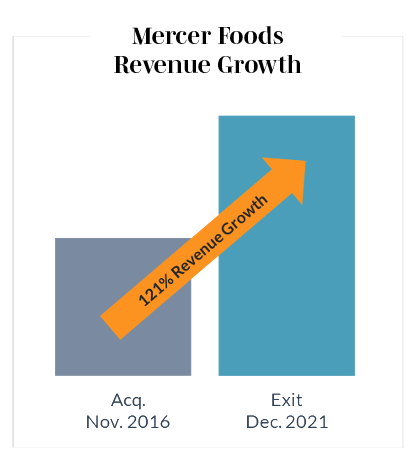 Grew its blue-chip customer base and deepened strategic partnerships
Completed a major facility expansion with the build of a new freeze-drying facility and addition of new equipment, which increased the company's freeze-drying capacity by 40% to support its growth trajectory
Executed improvements to the packaging process and implemented key cost savings initiatives
Established a global raw materials sourcing strategy, lowering raw materials costs for key ingredients, while augmenting the company's ability to scale quickly across a wider base of global suppliers
Mercer Foods' revenue grew 121% during Graham Partners' holding period, further adding to Graham's history of successful partnerships in food technology.
Andrew Snyder, Managing Principal at Graham Partners, said, "With Mercer Foods, we saw the opportunity to tap into our expertise in the food technology space to make notable operational improvements that fueled growth and profitability." Rik Jacobs, Mercer Foods' Chief Executive Officer, added, "Our partnership with Graham Partners played a key role in helping us to identify areas to grow both topline revenue and profits, putting us on a positive path for ongoing success beyond their exit."
About Graham Partners' Consumer & Food Technology Focus
One of Graham Partners' focus areas includes investing and partnering with technology and conversion-driven businesses in the consumer / food technology sector that are actively adapting to the evolving needs of their customers through innovation. Graham Partners has a specific interest in companies benefiting from the trends toward brand, flavor, and product proliferation, better-for-you foods, and packaging and food automation technologies.
FOR FURTHER INFORMATION CONTACT:
Andrew Snyder (asnyder@grahampartners.net)
Tel:  (610) 408-0500