A Clean Slate: Graham Sells Acme Cryogenics to Strategic as Part of Its Clean Energy Focus
December 22nd, 2021
PHILADELPHIA
Graham Partners, a Philadelphia-based private investment firm targeting technology-driven advanced manufacturing companies, is pleased to announce the sale of its portfolio company, Acme Cryogenics, Inc. ("Acme Cryogenics"). Headquartered in Allentown, Pennsylvania, Acme Cryogenics is a comprehensive provider of precision-engineered cryogenic solutions for the hydrogen economy and other dynamic, high-growth end-markets including cryobiology and healthcare, alternative fuels and energy, niche food and beverage, specialty electronics, space launch services, and cryogenic gas production. Serving a broad array of end-users, niche solution providers, and industrial gas majors, Acme Cryogenics is an established provider of mission-critical products and services that facilitate the production, storage, and distribution of cryogenic liquids and gases.
Acme Cryogenics was acquired in 2016 after Graham Partners engaged an industrial gas industry expert during diligence who provided critical insight at the outset of the investment, later joining Graham's newly formed Advisory Council for the company, and assisted in the identification of a highly capable CEO to run the business. Graham's collaboration with Acme Cryogenics' CEO and the Advisory Council helped enable the company to complete several key value creation initiatives during its ownership including expanding the senior management team, entering new high-growth end markets, and completing two critical add-on acquisitions that expanded Acme Cryogenics into adjacent product segments and new territories. Ultimately this resulted in ~141% EBITDA growth during the approximate five-year hold period.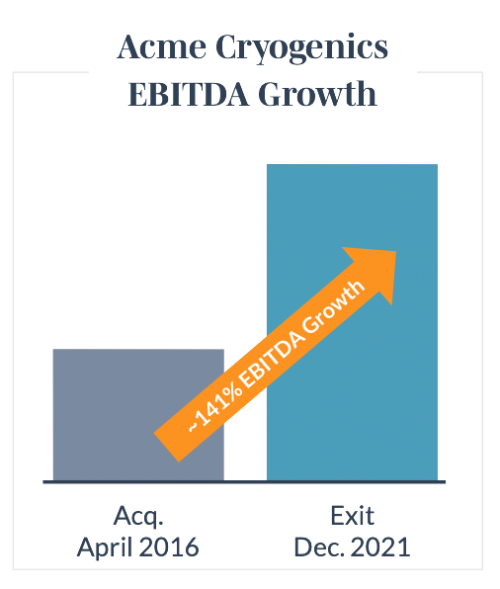 During Graham's ownership, Acme Cryogenics completed the following initiatives, among others:
Hired a highly capable CEO to run the business with input from industry experts, and added other key members to the senior management team
Completed two add-on acquisitions, which enhanced Acme Cryogenics' competitive position in attractive target markets with new product offerings and expanded the company's geographic footprint
Shifted the company's sales strategy to a proactive approach and improved margins across several business segments, resulting in ~117% revenue growth and ~141% EBITDA growth
Josh Wilson, Managing Principal at Graham Partners, said, "During our partnership with Acme Cryogenics, we worked closely with management to pursue exciting, new, high growth markets while also contributing to life saving initiatives during the COVID-19 pandemic. It has been a very rewarding partnership and we look forward to hearing about the company's continued success." Dave Fritz, Chief Executive Officer of Acme Cryogenics, added, "Our partnership with Graham Partners has helped take the company to the next level by both expanding and elevating our business. The Graham team's expertise helped further solidify Acme Cryogenics as a leader in the cryogenic and industrial gas space for years to come, while setting up our business for lasting operational excellence, profitability, and growth."
About Graham Partners' Industrial Technology Focus
One of Graham Partners' focus areas includes investing and partnering with technology and conversion-driven businesses in the industrial technology sector that are actively adapting to the evolving needs of their customers through innovation. Graham Partners has a specific interest in companies offering critical products and services in rapidly expanding, high-tech industries and end markets.
FOR FURTHER INFORMATION CONTACT:
Josh Wilson (jwilson@grahampartners.net)
Tel:  (610) 408-0500